How to add Bluetooth to a Honda Accord
The Honda Accord first started production in 1976, and nine generation later it is still in production. With such a long life span, it's no surprise that it wasn't until more recent iterations of the car that modern connectivity was added as factory standard. It wasn't until 2011 when Honda updated the Eight Gen Accord that they added USB support to the EX and EX-L models. Bluetooth support became standard in the Ninth Gen Accord from 2013 onwards.
Our bluetooth car kits are available for a broad range of Honda Accord's from 1991 right through until the end of the Eighth Gen in 2012. The Honda Accord Euro models are also supported.
Our range of integrated car kits work by emulating an external CD Changer, and are virtually plug-and-play with your factory standard car stereo head unit. There's no invasive modifications and DIY friendly. We sell integrated car kits from GROM and Dension that can be used to add Bluetooth, USB, and/or auxiliary connectivity to your car.
---
Fourth Generation (Updated, 1991 – 1993)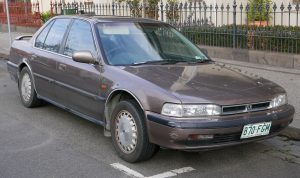 The Fourth Gen Honda Accord was first released in 1989, and received a mid-life update in 1991, with the EX variant receiving a radio update that seemed to coincide with the coming standard of including an external CD Changer port on head units. Before purchasing one of our car kits it's worth removing your head unit and checking for the CD Changer port, to ensure that our kits are compatible.
Adding Bluetooth:
Adding USB:
---
Fifth Generation (1993 – 1997)
Info
BT: MBUSDB3
USB: MBUSDU3
---
Sixth Generation (1997 – 2002)
Info
BT: MBUSB3, GBL3HB1
USB: MBUSU3, 
---
Seventh Generation (2002 – 2007)
Info
Adding Bluetooth:
Adding USB:
---
Eighth Generation (2007 – 2012)
Info
BT: HON1B3, GBL3HB1
USB: HON1U3, 
Skot recommends : HON1U3 plus BTD  combo
---
Help choosing the correct product
We try our best to make this information easy to understand and to help you select the best product for your needs, however we understand it can be confusing. Please don't hesitate to contact us for support, just let us know your car Make, Model and Year along with what sort of connectivity/functionality you're looking for and we will do our best to assist you.